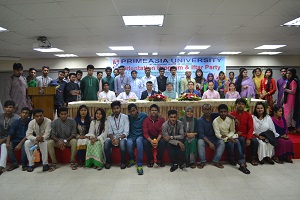 The faculty of law of the Primeasia University is one of the premier law schools of the country. It has always attracted the best legal minds academically and ideologically, thereby creating an inspirational center of exchanging ideas. It is a public-spirited faculty that makes distinctive contributions to society in learning, teaching, and engagement. The Department of Law is committed to provide a theory based but practically focused learning environment that prepares the students to become skilled lawyers in a globally competitive world and to develop their ethical and professional responsibilities. The four-year undergraduate program at the School of Law culminates into a Bachelor of Laws (LL.B.) degree for successful students. Students of the undergraduate program in law are expected to complete a rigorous 126 credit hours in subjects that include the laws of Bangladesh, comparative law, and human rights. A Master of Laws (LL.M.) program is expected to launch in 2017.
Students are given extensive training in various form of legal drafting and trial advocacy in the moot court room. The Department of Law offers a program that prepares students for the future: we are specialized in "Preparing the Leaders of Tomorrow."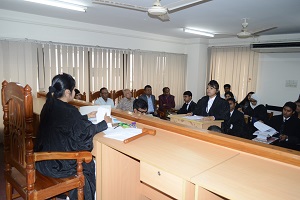 The PAU Law Department offers a curriculum that is rigorous, varied, and practical. Our program provides the foundation for understanding the law, legal ethics and practice. Through critical examination of ideas about law one will gain a deeper understanding of the relationship between law and society and an appreciation of the law as a scholarly discipline. Studying law with us will provide you with the opportunities to develop analytical, logical and reasoning skills that will assist you in the practice of law, or prove to be invaluable if you choose to follow other associated endeavors.
The School of Law at Primeasia University was founded in the year 2009 with a vision for producing the next generation of lawyers, judges, scholars, academicians and social activists. We offer our students an innovative, rigorous and at the same time flexible curriculum which allows the students to not only focus on their academic studies but also on other co-curricular activities.
The School of Law provides its students with world class facilities to support an innovative culture of learning which includes enthusiastic and highly qualified prominent faculties. Students who will complete the four-year undergraduate programme will acquire a Bachelor of Laws (LL.B.) degree with which they will be able to attend the enrollment examination of the Bangladesh Bar Council, the Bangladesh Judicial Service Examination and all the other competitive examinations in the current job market.
The School of Law at Primeasia University takes pride in our vibrant Moot Court Society and the Law Club. Our Moot Court Society started its journey from January 2015. Among other activities of the Club, students are given regular training in order to prepare them to successfully participate in both national and international competitions. Our Law Club holds regular sessions for debating and also organizes various competitions time to time. We offer you opportunities to achieve your full potential, challenge you to realise your ambitions, and prepare you for a successful career.